Packing Clip & Cord Strap Buckle Suppliers in UAE and Oman
Metal packing clips are one of the essential product requirements when packing. The sturdy design's perfect surface finish makes it comfortable to hold packaging products. In addition, its high tensile strength ensures & achieves more robust results in filling & sealing the transportation goods.
Selecting the ideal packing clip supplier and strap buckle suppliers are very important. The quality of the product will ensure your transportation of goods is handled with care. We are notably the best packing clip supplier in Dubai, providing a superior range of metal clips or strap buckles.
Our credibility in the market is well reflected by the clientele we have built so far. Over the years, we have grown and earned huge appreciation from customers due to the quality we offer.
We are famously named the reliable manufacturer and supplier of an unbeatable quality range of products.
Features of Packing Clip & Cord Strap Buckle
We are the leading Packing clip manufacturer in the UAE. Our products have gained immense importance for their impeccable design strength and performance.
Together it tends to keep the packing material up to date without damaging it. We have always believed in keeping high standard packing and the broadest range of products for customers.
Premium made quality material

Very sturdy design and long-lasting performance

Available in different shapes, strength, sizes that meet your business needs

Self-locking cord strap buckle

Corrosion resistance performance
Application of Packing Clip & Cord Strap Buckle
Our cord strap buckles and packing clips apply to all strapping surfaces, even irregular and narrow surfaces.
Being a renowned packing clip supplier in Dubai, our cord strap buckle provides the industry's most robust, most consistent joint performance.
Being available in different designs and strengths can be applied for various reasons. You can get your hands on excellent products at Cord strap buckle manufacturer in Dubai.
Specification of Packing Clip & Cord Strap Buckle
We are a total supplier solution and have helped many businesses and customers enhance their packaging needs. As the leading supplier, you will find everything at an affordable price.
Superior design and longevity performance

High Quality

Manufactured from high-performance steel wires

Impact resistance

Optimum strength

Most consistent closure/ joint method

High joint strength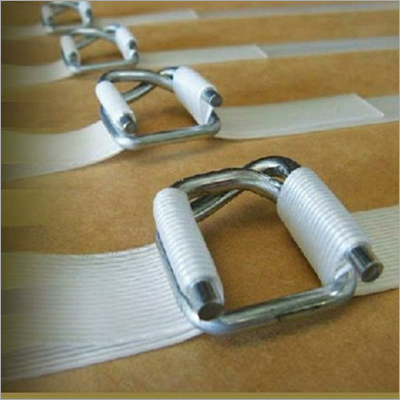 Are you looking for a packing clip or strap buckle? We have made a mark throughout the UAE for exceptional products and services. Our products are available in all sizes, dimensions, designs, and qualities. So please choose us and get the best results guaranteed.
We are a leading cord strap buckle supplier in Oman and UAE. The cord buckles we supply have excellent finishing and brilliant shine. In addition, the application-specific design makes it the most highly efficient product of all time.
We have been in the business of packing clips and cord strap buckles in Oman for a long time and understand how important it is to supply quality products. Our commitment to quality and affordability keeps us ahead in the crowd.
If you choose us, you can rely on our product's quality, durability, and strength. The products we supply are applauded for sturdiness, robustness, and durability.