Aluminium Tape Supplier & Manufacturer in Dubai, UAE
Aluminium tape, also popularly termed foil tapes, is highly usable in electrical, construction, or HVAC applications. The video works perfectly even if exposed to chemicals, thermal, moisture, flame, heat, and light.
The reliable power for handling weather conditions and temperatures makes it an ideal choice.
The high-temperature adhesive provides an exceptional solution for better performance, even at average temperatures. Being the demanding aluminium tape supplier, our tape consists of seamless performance adhesive.
Features of Aluminium Tape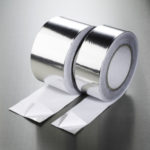 Being a renowned Aluminium Tape supplier in Dubai, we offer superior performance and characteristics for protection, insulation, reliability, and quick repair. This is what makes it ideal for multiple applications.
The quality of the aluminium tape we offer can withstand extreme high-temperature, with its strong resistance to heat or light applications. This is what promises to deliver smooth results.
It has a shielding capacity with its solid adhesive mechanism. The strong ability makes it the most acceptable choice to work for cabinets, cables, etc.
Advantages of Aluminium Tape
Industry Application of Aluminium Tape